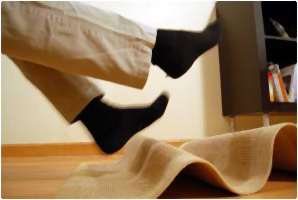 There are three things that bring seniors to the hospitals the most: urinary tract infections, mismanaged medications, and falls.
Although all three are worth writing about and can be related, falls are the most feared amongst the senior population. One in every three adults over the age of 65 falls and for that one person that fractures a hip, gets a severe head injury, or breaks an arm, that one fall can be a game changer. They are the leading cause of injury-related deaths for older people and more than half of falls occur at home. There are some simple things that can help prevent falls though, such as:
Securing loose rugs. Covering electrical cords that run across the floor and adding grab bars in the bathroom will also help.
Regular exercise can help, especially balancing and strengthening exercises. If you don't use your muscles, the risk of losing mobility will increase.
Check with a doctor about medication side effects and interactions that could cause dizziness or fatigue.
Check to make sure prescription glasses are up to date. People with vision problems such as cataracts, macular degeneration, and glaucoma are twice as likely to fall.
Alcohol consumption should be kept to a minimum and doctors should be aware of the habit.
Slippers should fit well and have traction soles.
Have floor lights or nightlights installed to avoid having to turn on a light without having to walk in the dark.
Despite these best efforts, falls happen. Be prepared.
Keep a phone on a low table and contact numbers programed in or nearby.
Always see the doctor after a fall, especially if you don't know why the fall occurred. A fall could be a sign of an illness or problems with medications.
Hearthstone has regular exercises programs to help keep residents at optimal health, medication aids* to make sure medications are taken properly, and personal call buttons to alert staff when help is needed. Contact Hearthstone of Beaverton or Hearthstone at Murrayhill for more information on how we can help you and your family.
*Available at an additional cost